A Message for You
Just the other day, I was at the Vancouver Hospice with three volunteers: Amy (esthetician), Mariella (hairstylist) and Sandi (massage therapist).
When I checked in with the Hospice Coordinator, she told me that an elderly man had signed up for all three services. She had been surprised by his request because, up until that day, he hadn't wanted anyone to touch him - let alone cut his hair and do his nails.
Over the course of the afternoon, he got his hair clipped, nails cleaned and filed, and had his arms and legs massaged. Amy, Mariella and Sandi were all smiling when they left his side, reflecting on how funny and appreciative he was.
That evening, I received an email from the Hospice Coordinator.
"I was chatting with the man your volunteers served just a few minutes ago. He told me that because of The Lipstick Project, he felt alive for the first time since coming to the hospice. He also mentioned that he wished he had started getting manicures sooner!"
Because of you, moments of comfort, dignity and joy are possible for those in our community who are facing significant health challenges.
Thank you for your generous support of The Lipstick Project in 2016 - we appreciate you so much.
Leigh Schumann
Founder & Executive Director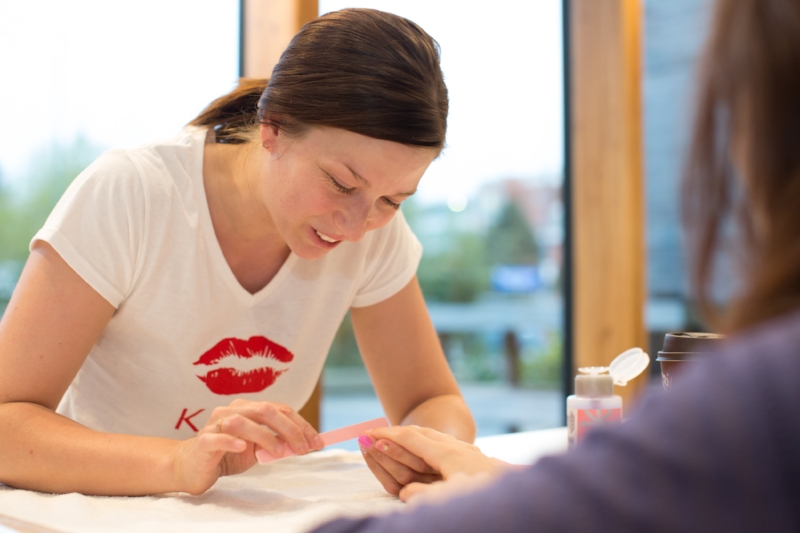 Leadership Team
Leigh Schumann, Founder & Executive Director
Holly Yip, Director of Community Partnerships
Janet Edmison, Director of Communications
Natasha Thom, Director of Operations
Josie Lim, Director of Finance
Skylar Gee, Director of Culture
Anthony Jacobs, Ambassador
Jocelyn Tang, Volunteer Love Coordinator
 
Community Partners
Vancouver Hospice Society
Camp Goodtimes, Canadian Cancer Society
Canuck Place Children's Hospice, Vancouver
Canuck Place Children's Hospice, Dave Lede House, Abbotsford
BC Children's Hospital
North Shore Hospice Society
Ronald McDonald House BC & Yukon
Ronald McDonald Family Room at Surrey Memorial Hospital
Because of you, 474 free, professional spa services were provided by The Lipstick Project's volunteer teams in 2016.
Fundraising with Flair
"I was drawn to support The Lipstick Project because I have felt firsthand the impact a manicure or massage can have on someone living in a hospital."
Even over the phone, Lyndsay and Linda Sung's voices bubble over with joy as they talk about their personal experiences with The Lipstick Project.
Originally, the mother-daughter duo was connected to the organization through family. Linda and Lyndsay are related to Holly, TLP's Director of Community Partnerships. "When TLP was throwing a launch party back in 2012, I donated cupcakes from my cake business to the event," Lyndsay explains. "From there, we kept up with how it grew through the email updates and through family get-togethers."
An already personal connection to the organization became immeasurably more when Lyndsay was diagnosed with breast cancer in January 2015.
"Going through chemotherapy impacts your entire body in such an extraordinary way," she explains."You lose your hair - all over your body including your eyelashes and eyebrows. It's very strange. But getting lightly pampered and having caring touch through something like a manicure would always make me feel so much better."
A few long years later, with her cake business booming and her cancer in remission, Lyndsay was inspired to participate in Breast Cancer Awareness month in her own unique way.
"It all happened very quickly," she remembers. "I thought the #fuckcancercake project would honour this special month, all the survivors, and would also give back."
Over 50 people from around the world made cakes and iced them with the bold statement: fuck cancer. Lyndsay donated $5 for every cake that was posted and, in doing so, championed 13 services for The Lipstick Project's clients.
"As I watched Lyndsay do this campaign, I was inspired," Linda, her mother explains. "And it struck me that I wanted to help more people access these bedside services."
Linda rallied her Golf Club to make The Lipstick Project the beneficiary of their Annual Ladies Golf Tournament.
"Through my own experience, I know that it is very hard to be the caregiver," she explains. "I'm an only child and, as my parents were passing, it was very difficult to be the only one they're leaning on. What I love about TLP is that the services are also available to the caregivers - it recognizes a holistic approach to care. My goal is to make sure more people hear about what is going on in our community and to ensure that more people can receive this kind of compassionate care."
Finding Community and Comfort
"Normal people don't remind themselves how things are supposed to be 'normal,'" muses Amanda Frost. After her 4-year-old daughter, Olivia, was diagnosed with leukemia, the family's "normal life" in Prince George was fundamentally altered, as Olivia needed to stay in Vancouver for six to nine months to access specialized medical services.
"We were in shock for a good period of time, but you essentially just drop everything," explains Amanda. She moved into Vancouver's Ronald McDonald House BC & Yukon (RMH) with Olivia at the end of March 2016. Her husband Nathan stayed with their older daughter Calista in Prince George.
Amanda explains that families in her position may be susceptible to isolation. "At RMH they don't let you do that," she says. Instead, RMH encompasses a community where families can support each other. It's a safe place for kids to run around, to be free, to have fun. "The kids could meet other kids, and you start to realize they actually can be kids again," says Amanda. "It became our new normal."
Between medical appointments, families can access a variety of services provided by volunteers. Different people come in to cook meals, provide yoga and meditation classes, and offer massages. The Lipstick Project (TLP) provides regular manicures and haircuts. Amanda says these services offered much-needed comfort: "The amount of stress I was carrying, physically, I never really realized."
Visits from TLP became an activity for her family to look forward to. "Every single one of us that was there utilized a service at one point or another," she says. "You go from not doing anything for yourself at all to actually having things that were normal before, like doing your nails and having your haircut. Having those sorts of things done definitely makes you feel better."
When Amanda later returned to Prince George and Nathan came to live at RMH, her husband would have his nails done with Olivia and send photos. These moments became things the family could share from a distance.
"Outlets like TLP give you a sense of feeling good," says Amanda, "They make the journey not as painful as it could've been otherwise." She expresses gratitude for the community at RMH and the people who helped make an inherently difficult situation a little more manageable, a little more enjoyable, and feel a little more like home.
"It was really nice for the girls to see that you can do such nice things for other people," says Amanda. She says the process helped her daughters appreciate the kindness of others, and inspired a desire to make meaningful contributions to the communities around them. "Our 'normal' will never be normal again, but a lot of positives came out of the journey as well."
This year we saw a lot of donors support The Lipstick Project in amazing ways. From big UBC-student-led initiatives like Generocksity to cake-decorating social media extravaganzas and a committed core of monthly donors, we saw it all! We are incredibly grateful for everyone's generosity and have our surplus this year earmarked for expanding our reach and impact, recruiting new volunteers, and letting our current ones know how appreciated they are.

We invite you to make your 2017 contribution today. A gift of $20 provides one free professional spa service.